Handpan (by Jacob Cole)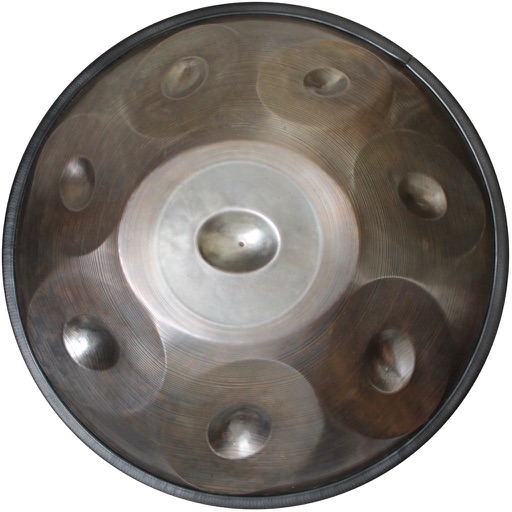 Try out one of the handpans used to create Jacob Cole's debut album, Destiny, available now on iTunes! The handpan is a new generation of hand hammered steel instruments which came from the original inspiration called the Hang, invented in Switzerland in 2000. Handpans are now handmade all over the world, but they are still very new and rare. They are tuned in different scales and are great for meditation & yoga. The scale of this handpan is: D / A Bb C D F G A Universal app for iPhone and iPad!
What's New
This app has been updated by Apple to display the Apple Watch app icon. Bug Fixes. iAd Integration
App Privacy
The developer, Jacob Cole, has not provided details about its privacy practices and handling of data to Apple. For more information, see the
developer's privacy policy
No Details Provided
The developer will be required to provide privacy details when they submit their next app update.
Ratings and Reviews
Ratings and reviews are verified
oasisob1, 17.11.2022

No sound

This app doesn't work.

?????????????ℎ?, 05.09.2022

Handpan

Very simple and easy to control. ⭐️⭐️⭐️⭐️⭐️

CarbideDude, 07.07.2022

Wrong key

This seems to be a really cool app. I was hoping to conveniently tap around a few melodies that I could bring back to my instrument. But my drum is

Show more

AllMediaVisions, 24.10.2021

Nice After I took my phone off of silent mode

At first I gave this a one star review because I did not hear any sound. Only to find out that my phone was on silent mode that little hidden

Show more

PipersPelo, 20.09.2021

Pretty good

I didn't hear anything at first, like it wasn't working. But then I closed out of the app a few times and opened it, and put it headphones, it finally

Show more

googoo dadda, 05.12.2020

Simple and fun for a quick play

I'm not here to write handspan songs, so I think for wha it is it's great and my 2 year old son likes it too. Kind of which you could

Show more

Mickof33, 19.03.2020

delightful

Delightful! Beautiful tone, very realistic virtual player.

Ratamatat, 04.02.2020

Audio Unit

This is a beautiful sounding instrument! This would be a wonderful recording tool as well. Could you please offer AUV3 or Inter-App support. Even Audio bus compatible would be nice.

Chrisbowmusic, 03.01.2020

Realistic Sound

Sounds good, but needs to fix the click when a note/sample is triggered twice in succession.
Information
Category

Age Rating

4+

Price

Free

Size

7.68 MB

Provider

Jacob Cole
Copyright
© 2004-2023 Jacob Cole. All rights reserved.