KORG iELECTRIBE for iPhone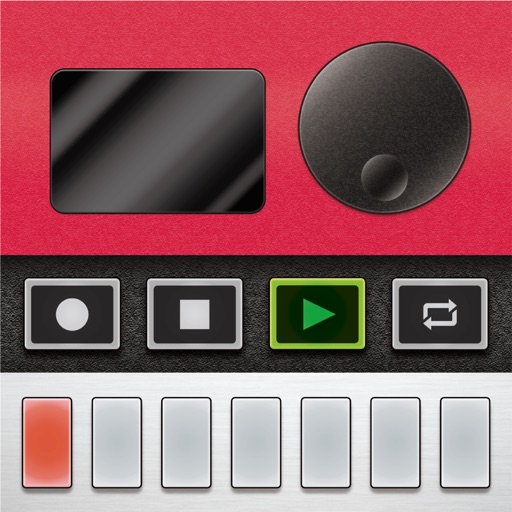 The ELECTRIBE reborn in an even smaller form A full-fledged rhythm machine for iPhone ● Featured in "Best Music Apps" ● Featured in "Best New Apps" This app's intuitive operation allows anyone to easily create powerful beats on the ELECTRIBE series. The enormously popular ELECTRIBE-R instantly became a must-have item for track-makers around the world, and now it's been reborn as an app for iPhone. With this app, we've effectively "put the original hardware chassis into your iPhone," by faithfully reproducing the sound engine and design of the ELECTRIBE-R. We've also included the latest preset patterns and many new functions that are currently featured on the "iELECTRIBE for iPad", released in 2010. , taking a further evolutionary step in technology. Taking advantage of the ease of use that you expect on iPhone, we have maximized the intuitive nature of the ELECTRIBE to make this new product worthy of its name: the iELECTRIBE mkII. It won't take long for you to enjoy the ultimate experience of the Electribe series. This apps intuitive nature and familiar interface make it easy to create beats with an analog feel that's like nothing else. ● Amazing rhythm machine that generates powerful grooves We've perfectly replicated the thick-sounding synth engine of the ELECTRIBE-R and its intuitive step sequencer. Now you can instantly obtain extreme tonal changes and powerful rhythms with just one touch Not only can iELECTRIBE for iPhone be easily enjoyed by anyone, but it also allows detailed beat-making that transcends iPhone specs. In addition to playing back the provided audio data, you can also freely synthesize sounds from a single waveform and combine those sounds into your own original beats. This allows for the true experience of music production that connects all musicians. ● Three hundred built-in rhythm patterns that only this app can produce With 64 of the latest preset patterns, 192 from the first-generation ELECTRIBE-R, and 32 template patterns for various genres, this app successfully draws out the full potential of the thick sounding analog beats. There are approximately 300 inimitable rhythm patterns that you'll hear only from iELECTRIBE for iPhone. Electro, house, techno, drum'n'bass, dubstep, hip hop, techno pop, and IDM are some of the wide range of electronic music genres that are provided. ● An ELECTRIBE that you can put in your pocket and take anywhere Whether you're on the train or bus while commuting to school or to work, at a coffee shop, or in your bedroom, you can enjoy beat-making anywhere and anytime you like. Your completed beats can be transferred to your DAW software via the audio export function. You can also use the WIST function to play wirelessly with a friend using two devices simultaneously. ● Powerful functions that bring infinite possibilities to your grooves We've packed maximum potential into this machine with eight types of powerful master effects featured on the upper-level models of the ELECTRIBE. This includes the ring modulation function of the ELECTRIBE-R and the cross-modulation function of the ELECTRIBE-R mkII. This app allows you to switch back and forth to choose between the two. It also includes the BEAT FLUTTER function that uses a proprietary randomizer to create fresh rhythms and the motion sequence function that remembers your knob movements. In addition, you can use an external USB-MIDI device such as the nanoPAD or nanoKONTROL for performance and control. There's also support for the latest iOS technologies such as Inter-App Audio, Audiobus, Virtual MIDI, and iCloud. More info at korg.com
What's New
Improved app stability.
App Privacy
The developer, KORG INC., has not provided details about its privacy practices and handling of data to Apple. For more information, see the
developer's privacy policy
No Details Provided
The developer will be required to provide privacy details when they submit their next app update.
Ratings and Reviews
Ratings and reviews are verified
Abt85, 23.06.2022

Amazing drum machine, but

….too bad it hasn't been updated in while, looks bad on my IPhone 13 pro max.

MACKSBOOKisintheAIR, 18.10.2020

Disapointed...

The app is straight and simple and sound quality is fantastic, but, you need ITUNES to be able to transfer data into GarageBand ? there is no point to have

Show more

TheRealDutchee, 05.08.2019

Top of screen is cropped off on iPad

The top section of the interface is being cut off when using this app on an iPad. It used to display properly before iOS 12 but no longer shows correctly.

Show more

Bunny Lux, 29.11.2018

Cut off top of screen

I love the Electribe app. However, with the new iOS 12 update the top of the app is cut off when opening on ipad. Wish they'd update and fix this

Show more

Zjenji, 09.12.2017

Desperately needs an update!

It's been crashing after launch since I updated to iOS 11. I can't bring myself to rate it lower than four stars, because this is one of my favorite apps.

Show more

WFernanda, 22.08.2017

More electribe models!!!

I love the electribe R and I would love to see the other electribe models, like the electribe M, or the electribe A, or even the special gorillaz electribe version,

Show more

Lizard3209, 06.11.2016

Great app - catch up with the tech

I love the iELECTRIBE and it is just like the original. It does electronic beats wonderfully. However it is slightly frustrating on the small iPhone. It could

Show more

Critical fanboy, 25.02.2016

Slight fine tune adjustment

Cool app but tempo slider needs to be fixed, because it is very hard to adjust. I don't need to select a 999 bpm tempo. Please make it easier to

Show more

dynohmike, 20.02.2016

Now crashes after hitting menu and button on top left

When you hit menu then the option on top left it dies rendering this virtually useless.
Information
Category

Age Rating

4+

Price

9.99 USD

Size

94.21 MB

Provider

KORG INC.
Copyright
© 2004-2023 KORG INC.. All rights reserved.