MiMUSIC BIG GRFX Ai+ LANDSCAPE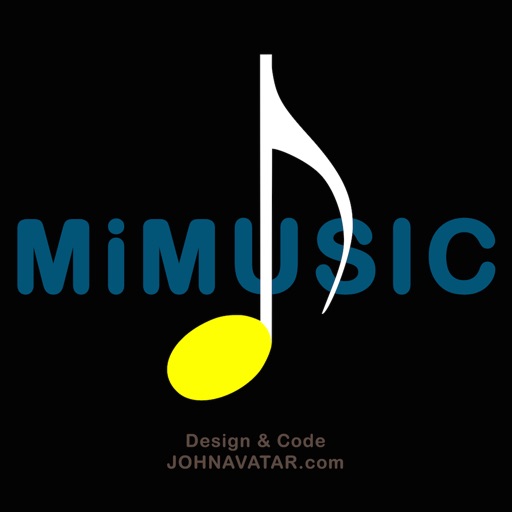 MiMUSIC BIG GRFX Ai LANDSCAPE - BEST MUSIC PLAYER ON THE PLANET (nice big graphics & text and works LANDSCAPE)!:*). Other players Artwork and Song Info TOO small when I'm in my Car - we fixed that!! LANDSCAPE MODE AND SIMPLEST POSSIBLE MUSIC PLAYER, with "Ai DJ" BUTTON (automatic perfect playlist for you)! PLUS in Landscape a Time/Day/Date/Battery CLOCK appears. And it's Universal, it works on iPad, iPhone, iPod Touch.... THE "A.I. DJ" BUTTON (aka: "Automatic Instant DJ", or "Artificial Intelligence DJ" if you think that sounds better!!!! Doesn't matter to meee, it's just insanely cool to build an instant playlist of all your songs with a single touch of a button and it is absolutely INSTANT) Automatically, Smartly, Instantly builds you a playlist using all of your music on your device (Smart Genre Builds). When in Landscape mode a Clock pops up, so you can see time and date and Battery Charge.... for the road, or bedside, or poolside... wherever... For iPad, the clock is always there. MiMUSIC LANDSCAPE PLAYER is a very simple music player, all artwork and song information is displayed in Landscape and Portrait and very large letters! This App only plays music on your device, no radio, no streaming. There are 3 Dot Sliders..... BLUE = Display Brightness RED = Volume GREEN = Time Slider Dot that moves to indicated where in the song you are (next update will let you scrub through the music, not this one) Sooo... why did I do this? Well, I just bought this incredible All Electric Car, a FIAT 500e... and this car includes full integration with the iPhone, it's like one big iPhone! AND this car comes with a TomTom and custom built holder mounted on the Dashboard, that my iPhone 6 Plus fits perfectly into.... BUT, it only holds the phone LANDSCAPE! And the new Apple Music App does not rotate/auto-orient to Landscape. I designed a very simpler, very personal, music app that auto-orients to Landscape, or Portrait mode and only plays my own music on my own device.... it's very, very simple and very fast and very, very easy to read (nice big letters), also has volume control slider and next/last music selector, a clock, day of week, date display, with battery charge level... and shuffle and repeat buttons.... it does everything you need to hear your music and displays the album artwork in a beautiful way! !YAY! PERFECTION!!!! JOHNAVATAR.com Santa Monica, CA 90402 (Silicon Beach)
What's New
BOTTOM TIME SLIDER NOW WORKING! You can now move the bottom slider to play song from any point!:^) And... MiMUSIC now knows what is playing before it starts.... AND Update for newest iOS & iPhone's, iPad's and iPod Touch. WE'RE ALWAYS LISTENING! Silicon Beach Design Studio™ & LAB JOHNAVATAR.com Pacific Palisades, CA MADE IN THE USA Email: JohnAvatar@JohnAvatar.com
App Privacy
The developer, John Avatar, has not provided details about its privacy practices and handling of data to Apple. For more information, see the
developer's privacy policy
No Details Provided
The developer will be required to provide privacy details when they submit their next app update.
Ratings and Reviews
Ratings and reviews are verified
SkyCruz718, 10.05.2022

Love

Love the design and concept. Please update!

zubertuber, 16.09.2015

Does the job!

I'm not a fan of the default player and this does a good job of making listening to my music simple.

SandSoul, 13.09.2015

Better than iTunes, I'm telling you.

I just want to listen to my music. This does it simple. iTunes overcomplicates it and is designed to sell me music. I like to discover music with my ears, not have it

Show more

Red Skew, 11.09.2015

Amazing!

This app fills in the gaps left in Apples latest music upgrade. Restores the landscape function that I liked so well. Highly recommend this.
Information
Category

Age Rating

4+

Price

0.99 USD

Size

15.72 MB

Provider

John Avatar
Copyright
© 2004-2023 John Avatar. All rights reserved.