Lorentz - AUv3 Plugin Synth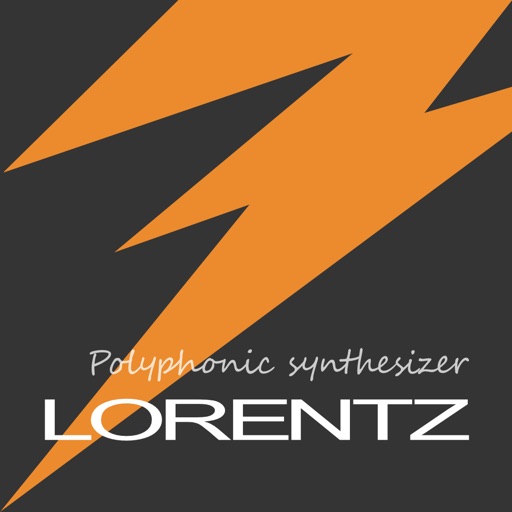 Lorentz is not only an analog modeling synthesizer, but also has a resonator that allows you to create metallic and distorted sounds. This makes it easy to create new synthesizer sounds with a resonator. Unstable and fluctuating oscillators have unisonable sawtooth waves, pulse width modulated square waves, sub square waves and noise. You can mix these waveforms at the same time. The filter has a self-oscillating resonance. # Note - This product is compatible with iPads and iPhones, but not compatible with Apple Silicon Macs. - This product mainly contains basic presets that are useful as a starting point for sound creation. Please note that there are no huge amount of presets. Enjoy making sounds. # Synthesizer Engine - Oscillators : Saw, Pulse, Sub, Noise* High Pass Filter - Low Pass Filter - Resonator - AMP - 2x Envelope Generator - LFO - Effects : Chorus, Delay # Programmable Arpeggiator You can easily create your own pattern. # Universal App It is compatible with iPad and iPhone and has multiple screen layouts optimized for different screen sizes. # Audio Unit Extensions (AUv3) You can use this AUv3 Plug-In in a host application that supports Audio Unit Extensions (AUv3). # Audiobus You can stream live audio directly to an Audiobus compatible application. See https://audiob.us for more information. # Ableton Link Link is a technology that keeps devices in time over a local network. See https://www.ableton.com/link/ for more information. # MIDI input - Core MIDI, Virtual MIDI, Inter-App Audio MIDI Input - MIDI clock synchronization - MIDI controller mapping # Preset sharing You can share your presets with other users. You can add presets created by other users to your preset library using the iOS Share Extension feature. # More information Introductory videos and manuals can be found on the website below. https://icegear.net
What's New
- The Synthesizer Engine has been fine-tuned for oscillator phases, envelopes, etc. You can revert to the previous Synthesizer Engine in the settings screen. These settings are saved in presets, and different versions of the Synthesizer Engine can be used with each preset. - Other minor fixes and improvements.
App Privacy
The developer, iceWorks, Inc., has not provided details about its privacy practices and handling of data to Apple. For more information, see the
developer's privacy policy
No Details Provided
The developer will be required to provide privacy details when they submit their next app update.
Ratings and Reviews
Ratings and reviews are verified
anickt, 10.11.2019

Another good one

Like all of their synths! Great sounding! Get it now!

Multicellular Music, 22.11.2018

Core subtractive synth

Regular classic synth sounds. Reason for high rating is this is very efficient, low cpu for most things, which is always an issue on iPad versus laptop.

Korg Fan, 01.08.2017

Cassini and Polysix had a baby!

I thought this would be just a generic polysynth, but after reading the reviews, I decided to give it a shot. This is a really fun app, and I'm glad

Show more

ZenLizard, 12.07.2017

Great Simple Synth

With a powerful arpeggiator. Thank you for AUv3!

Chasingdogma, 23.03.2017

Lorentz is a BEAST

I own a LOT of iPad audio apps and well over 30 iOS synths. Of those, there are only a handful I would use for professional recording, such as Moog

Show more

Klrxs, 29.01.2017

Link has strange property

Love all iceworks apps. I have all the recent Link-enabled ones and they are always the first ones I open during a session. For some reason, when the apps join

Show more

L'emy Al Akwin, 16.07.2016

Resonator!

Love the resonator section in this app. This is a solid, mostly one-page synth made special by the resonator that transforms every patch in beautiful and dissonant ways. Well worth

Show more

Gs2501, 14.07.2016

another home run

very powerful and easy to use. creative musician will love it.

TheDudeAbided, 03.07.2016

Nice one

Good synth for working with bass, pads, leads, poly. Nice clean one-page interface, only other window is for the arp. (And it's a really good arp too, jam on it

Show more
Information
Category

Age Rating

4+

Price

6.99 USD

Size

12.02 MB

Provider

iceWorks, Inc.
Copyright
© 2004-2023 iceWorks, Inc.. All rights reserved.