Mixfader dj app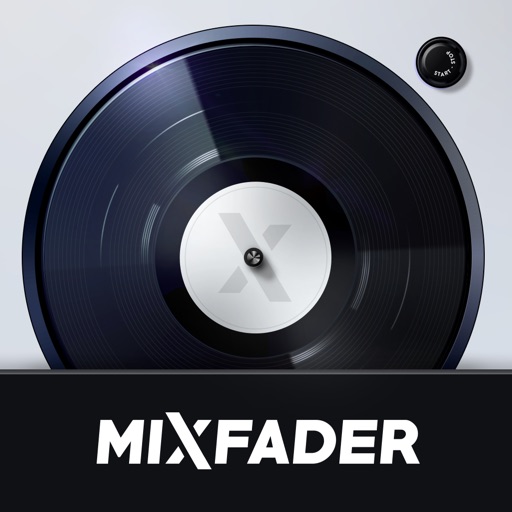 Mixfader dj and Mixfader provide you with the complete functionality of physical turntables to produce high quality scratching on the go. Want to feel the vinyl on your hands? No worries, you can use Mixfader and Mixfader dj with physical turntables such as the PT01 Scratch. There is no limit to your skills. **The Mixfader Companion app has been removed from the store. Mixfader dj is now the one and only dedicated app of Mixfader. All features of the Companion app have been implemented on Mixfader dj** ** Requires a Mixfader ** A NEW TAKE ON PORTABLE SCRATCHING - Mixfader dj perfectly emulates the real vinyl behavior and its sound rendering for the best scratching experience - Thanks to a revolutionnary ultra low latency Bluetooth technology, Mixfader dj instantly responds to your Mixfader moves - Choose your setup: smartphone, tablet or both. Timecode or standard audio vinyls. Midi software. There is no limit to what you can accomplish. ACCESS THE MUSIC YOU NEED - Loops Packs store: access special scratch Loops created by pro scratchers such as LostTonePros, Ugly Mac Beer, Fong Fong or Weezmatic! (in-app purchases) - FREE loops and smaples provided on the app - iTunes local tracks and iTunes folders access - Soundcloud integration - Deezer integration - Possibility to create your own playlists - Easily sort your tracks by BPM - Possibility to convert your recorded routine to .mp3 and share it to your community FEATURE HIGHLIGHTS - 8 cue points available on each deck - 5 audio effects: Phaser, Flanger, Echo, Reverb, and Filter - automated audio effects sync on the BPM (loops and seek) - real time audio analysis - crossfader curves adjustment: scratch cut, slow cut, dipped... - instant doubles feature: simply long press the library icon on the deck of your choice to activate it - Mixfader's cut-in point adjustment - Vinyl's inertia adjustment - Hamster switch - Automatic detection of your tracks' BPM - Assign your Mixfader to any role (Crossfader, Volume or Pitch fader, audio effect...) - HD recording feature for you to easily save your work SPECIALLY DESIGNED SINGLE VINYL INTERFACE - one big scratching vinyl with a marker displayed to provide a large control surface - easily switch from deck A to deck B - central spectrum: follows the vinyl's movemoents and offers a real-time graphic representation of the sound - all the essential tools a click-away: pitch know, volume fader, hot cues, audio FX - physical turntables dedicated interface that allows direct access to colored cue points pads on each deck PORTABLE SCRATCHING COMPATIBILITY - Mixfader and Mixfader dj can be connected to portable scratching turntables - Use your Timecode or Standard audio vinyls to scratch with Mixfader and Mixfader dj - scratch on portable turntables such as: vestax handy trax and Numark pt01 - compatible timecode vinyls so far: Serato CV02 A-side and B-side ; Serato Control CD ; Traktor MK1 A-side and B-side ; MixVibes 7"" and MixVibes V2 - supports audio devices with multiple audio inputs: possibility of connecting two physical turntables to your device MIDI SOFTWARE COMPATIBILITY - choose your MIDI mode and assign the control change number of your choice - compatible software so far: GarageBand ; Serato ; Virtual DJ ; Ableton Live 9 ; Traktor MIXFADER SETTINGS - update your Mixfader directly from the app - possibility to assign a color to your Mixfader - calibrate or re-calibrate your Mixfader ABOUT MIXFADER DJ - http://www.themixfader.com/ - Facebook: https://www.facebook.com/Mixfader/ - YouTube: https://www.youtube.com/channel/UCLvnag-xcKaKioO1uWQefrg - customer support: support@themixfader.com Mixfader dj is optimized for iPhone 5 onwards, Retina displays, iOS 9 onwards
What's New
We fixed an issue with the library some of you were facing. And big thanks to all of you for your feedback on the app!! Remember to use #mixfader to share your greatest routines with the community! If you enjoy the app, please take a moment to rate it on the store, it is really helpful for us :)
App Privacy
The developer, MWM, has not provided details about its privacy practices and handling of data to Apple. For more information, see the
developer's privacy policy
No Details Provided
The developer will be required to provide privacy details when they submit their next app update.
Ratings and Reviews
Ratings and reviews are verified
Warrobot7, 24.12.2022

Brand new Mixfader

I got one! I finally got one yayyy :)

BigKoba?, 30.06.2022

App needs an update to fix SoundCloud Login error

I love this app very much but every time I try to sign into my SoundCloud account, it doesn't work.It always says "Authorization failed.Please check your credentials and try logging

Show more

MashaT22, 28.05.2022

Needs iOS update!

Any chance you guys can update this app to be compatible with the latest versions of iOS? It's a huge bummer that the Mixfader hardware won't reliably work because of

Show more

MastaHanksta, 09.02.2022

App freezes in the home view setup window

Works ok… sometimes the app gets stuck in the set up window and won't go to the scratching section. Please fix the app

justskate23, 19.01.2022

Kelvin

I'm not able to use the music other than the music you guys provide which I would love to use like the previous times I used the app

webbie??, 27.10.2021

Not working

I reinstalled the app and it's not working :(

rockypenguino, 25.09.2021

Music just not even playing anymore

For some reason I can't load in any music or listen to anything any more it just keeps saying loading like is the app broken or something or like what's

Show more

g12fan, 25.09.2021

Fix it pls

The music not playing I tried on 3 devices and TRASH fix it pls. Fix guy cmon I want this fixed by tn pls. Keep the SoundCloud music free too

Show more

shivanayeb, 11.09.2021

Mixed feelings

At first I loved this app, but then I couldn't add some music snd a second track. Please fix I love this app
Information
Category

Age Rating

4+

Price

Free

Size

178.8 MB

Provider

MWM
Languages
English, France
Copyright
© 2004-2023 MWM. All rights reserved.